Ms. Smita Aage
Alumna- AISSMS Institute of Management
Ms. Smita Aage joined AISSMS Institute of Management with very clear objectives & walked on the path of her dreams since the very first day. In one of her previous interviews, she was so much fascinated by the personality & charisma of the interviewer (HR of a reputed firm) that she became her role model & Ms. Smita decided to become like her. Since then her inclination towards this profession kept increasing which eventually brought her to AISSMS IOM. Her interest in enhancing her leadership qualities, interpersonal skills, effective evaluation of people & every other thing around communication made her choose MBA in HR as an academic course.
''Ambition, Enthusiasm & Action; a formula to make your dream come true.''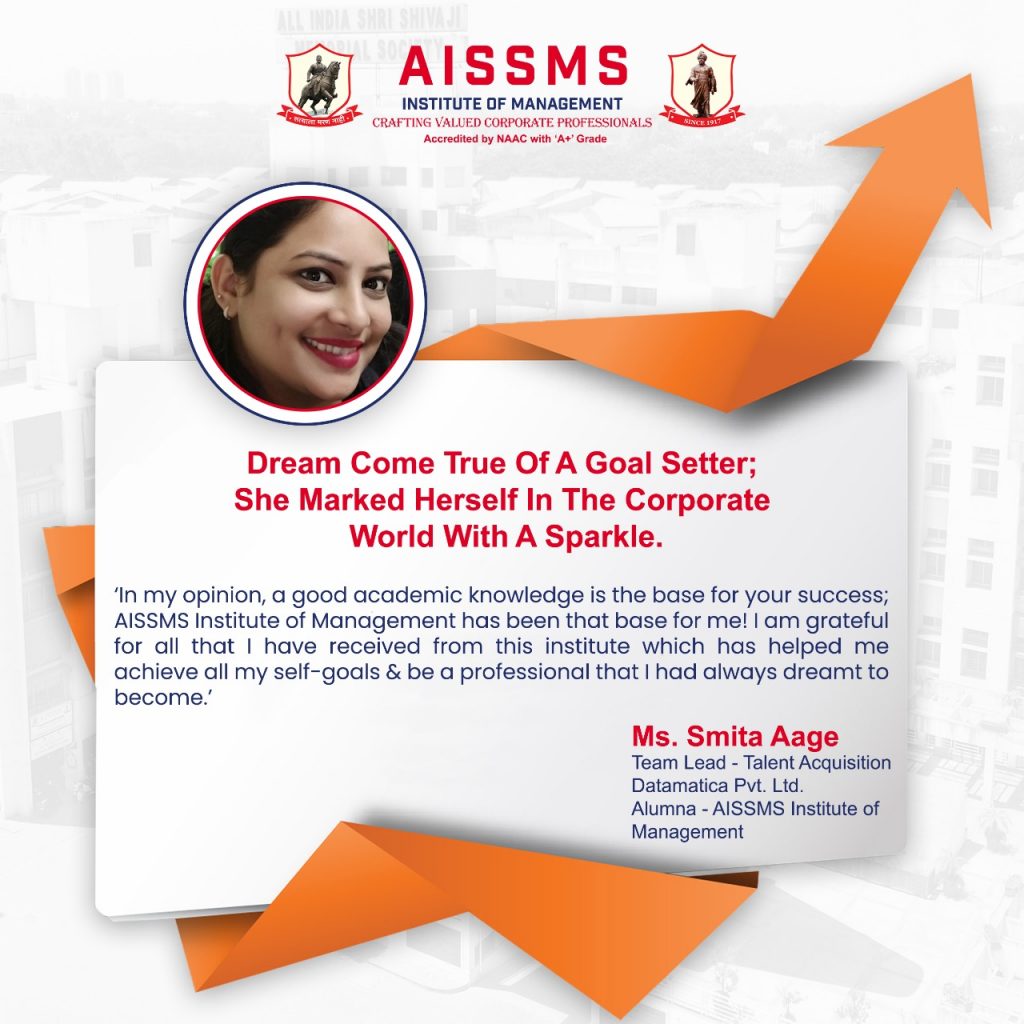 As she had already set-up her goals & was clear about what she wanted from this MBA course at AISSMS Institute of Management, she actively participated in all the workshops, events, etc, & kept her desire to learn always on which eventually helped her gain the required amount of confidence & overcome her other fears like stage.
With the internship program offered by the college, she encountered some practical knowledge & tried to develop a problem solving attitude, deal with pressure, acquire leadership traits, strategic solving & planning, time management & all other professional skills.
She extends her gratitude towards the opportunities provided by the college & mentions that she had already won half of the career battle in her academic years as it made her perfectly ready to face the real work culture. Today she is working at one of the reputed companies- Datamatica Pvt.Ltd. as a Team Lead, Talent Acquisition.
With a belief that a good academic knowledge forms the base of any success story in today's competitive world, she every time chose the best for herself, worked for her dreams with a persistent attitude & achieved all her goals that she had set without missing a single one of them.